Thank you for stopping by today! I am so excited today because I get to introduce you to our newest Sponsor Challenge!
Today we get to sponsor Birthday Sundaes Challenge Blog !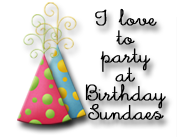 You can check out all the fabulous teams we have the privilege to sponsor by checking out our "Partners Page". That will give you just a glimpse of all the great challenges coming your way.
Did you know you can get a complete list of upcoming challenges at the beginning of each month in our monthly newsletter "Bugaboo News" You can subscribe Email
Birthday Sundaes Challenge Blog hosts some great challenges and today is no different! The challenge today is to use green with a Birthday theme.
Thank You Birthday Sundaes Challenge Blog , for the opportunity to sponsor your challenge today!
Bugaboo has lots going on so be sure and check back daily so you don't miss a thing!
Would you like to Partner up with Bugaboo for your challenges??? We sponsor all events offering 7 free digis to the your winners and lots of added exposure to your events and your DT.
If you have questions or if you are ready to set your team up to partner with Bugaboo Email me for all your Sponsoring needs!